Lawrence B. Linville
direct line:206.442.1560
email: llinville@linvillelawfirm.com
Granite Mountain is hands down the best day hike in the Pacific Northwest. Take exit 47 off I-90, turn left, cross over I-90, turn left on the other side (now you're heading back west) and you'll end up at the trail head in about 500 yards. The hike's got something for everyone: trees, trail, meadowlands, streams, rocks, and most of all, incomparable views (especially of Mount Rainier). Plus, there's a forest ranger lookout station at the top: sort of something to focus on when you're getting short of wind and legs on the way up. Bring a camera, lunch, and something warm and dry to put on while you're hanging out at the top. August - October are the snow-free months
Your life will be more fulfilling if you know when best to be like a cube of sugar or be like a mushroom. Hiking for instance. Best to be a cube of sugar. Immerse and dissolve yourself in the solitude and stillness of the hike. Resist focusing on the hike itself or on gaining the summit or timing your ascent or descent. I almost always hike alone and start just before first light so there's usually mist and fog, especially throughout the lower elevations. And I like that because it serves as the perfect medium for immersion. Sort of like hot water for the tea bag. The photo at the left is a self-photo taken earlier this summer. I was mid-way up the southeast ridge of McClellan Butte.
So, when is the right time to be a mushroom? Answer: when you want or need to keep your soul, core, shape and path intact: when it serves your purpose to embellish or improve yourself or steady your direction by enjoying the flavors from all the occasions and circumstances that you encounter through life rather than becoming the flavoring itself, as you do when you're a lump of sugar.
I can't say I'm a biking enthusiast. But I do like to go on bike rides. Vashon Island and the Samammish Plateau are great 60-70 mile loops for a good day's ride. Biking is for everybody. It is an ageless recreation. We all remember our first new bike. We fondly remember shedding our training wheels like Tom Hanks shedding his leg braces in Forrest Gump (Paramount Pictures 1994). Biking is refreshing and gives you a super cardio workout if your ride includes a few climbs. Plus you can sport some cool jerseys! That's me on the right taking a slash or two of my Powerade (fruit punch) while biking the 60 mile West Maui loop. The start is in Maalaea, then on to Lahaina, Kapalua, Kahakaloa, Wailuku, Waikele, then back to Maalaea. The ride is a perfect metric century ride and is hosted each year by South Kihei Bikes. Lots of riders turn out. Ride support is provided by a sag van. There's a BBQ at the finish. Lots of fun. You can check out the other riders' gear, jerseys, girlfriends, etc. Plus you get a cool tee-shirt. Cost is $40.00. Such a deal!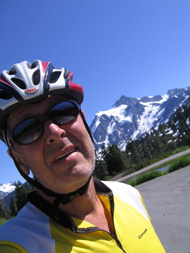 On the left is yours truly taking a breather about 1000' below the summit of Mount Baker. I started at the little town of Glacier on State Route 542 early in the a.m. this summer. Both the ride and climb were awesome. I highly recommend this ride to other cyclists. The grade up is constant and the views are every bit worth the effort to get to the top. The road is clean.
There are all sorts of different skating styles and venues: aggressive, slalom, downhill, freeskate, etc. For me, I like slalom. Lay out a string of cones. Skate in and around and between the cones with cool moves. Where do you learn the cool moves? The answer is YouTube. All that I know, all that I have come to be, all that I believe in comes from Youtube! Skaters are always posting videos of themselves and their new moves. Where to skate in Seattle? Tennis courts are great. Covered park 'n rides on the rainy days - especially the park 'n ride at Eastgate! Skate King and Lynnwood Rollaway are big arenas. Alki in the summer is the best!
Here we are, father, daughter, David and Christian (from right to left). Julia was in town for Christmas and graced us with her pool skills at The Garage for our Linville Law Firm Christmas party. I snuck her Christmas present out from the house so she could wear it for the evening - doesn't she look great? It's wonderful working with my sons and seeing them every day, but there's nothing like when Julia arrives from Maui and the whole Linville crew reunites.
Maui has two outdoor aquatic centers, one in Kihei and the other in Lahaina. Both aquatic centers have championship 50-meter pools. That's me at the Lahaina Aquatic Center (LAC). A lot of swimmers measure their stroke efficiency by timing their distances. I like counting strokes per 50 meters. Here, as in other aspects of our lives, less is more! Swimming takes your mind off other matters and provides a good cardio workout. There are always things we can do to improve our stroke and kick. Plus, we get a cool suntan along the way. At least in Maui.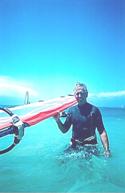 Life doesn't get much better than a three hour "session" on the North Shore of Maui. My kids and I took up windsurfing in the early '90s. We learned the ropes down at the Columbia Gorge. The day of this photo, I met up with my daughter, Julia, and her pro-windsurfer husband Ferdinando Loffreda from Termoli, Italy.; I was on an 8'4" Dill squaretail, and a 4.7 meter EZZY wave sail, the trades were easterly at a steady 20-25 knots and the swells from the north were at six feet. Julia, Ferdinando and I rolled the math and it was one of the best three hour "sessions" that I can remember. You couldn't have have asked for a better setup. Windsurfing is a very individual sport. It's just you, your gear, the wind and the waves. If you score a good wave, give yourself a pat on the back. If you bash, you can only blame yourself. As in life itself, the rewards you receive from taking these risks always outweigh the aches you suffer from absorbing the bashes. Although windsurfing is an individual sport, it always gets really social at the end of the day when you're meeting with your buds over fish tacos and soft drinks at some local café. You hear a lot about fishermen taking liberties with the truth? You ain't heard nothing until you sit around a table at the end of the day in some café in Paia and listen to these wave warriors tell their tales. Who me?