EMPLOYMENT AND SUBCONTRACTING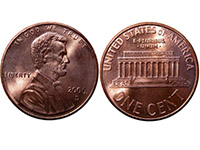 It's a mixed bag out there.
Employees and subcontractors can be both an asset and a liability to your company. You don't always get your first choice when it comes to hiring. Sometimes you hire out of necessity which is driven by schedule of work or suddenly created voids in your workforce. Plus, employees and subcontractors are oftentimes not all they were cracked up to be. Training, employee manuals and signed subcontracts can take you only so far. Sometimes it gets to the point where you have more risk and troubles with your employees and subcontractors than you do with inspectors, auditors, customers, and the competition.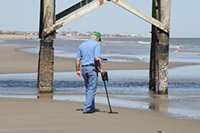 Navigating the mine field.
You've got lots to watch out for. The Department of Labor and Industries (L&I) administers worker's compensation claims. If one of your employees becomes injured or occupationally diseased on the job, L&I will pay the claim, but your next year's premiums could be unfavorably adjusted. The same is true if one of your employees is let go and then successfully applies for and receives unemployment compensation. The Employment Security Department may adjust your rates.
Washington law prohibits discrimination in the workplace. Not just yours, but also any discriminatory conduct and remarks of your employees with regard to age, sex, marital status, sexual orientation, race, creed, color, national origin, military experience, or the presence of any sensory, mental or physical disability. You cannot discriminate against whistleblowers - employees who oppose the company's acts or practices which are forbidden by law.
If you wrongfully withhold wages from one employee, you may have to pay double the withheld wage, plus attorney's fees.
You are vicariously responsible for damage to property or injury to persons caused by your employees if the damage or injury occurs during their scope of work.
Violation of the Washington Industrial Safety and Health Act committed by your employees will be fined to your company.
Terminating or demoting an employee may not be as cut and dried an experience as you might think. An employee's filing with the U.S. Equal Employment Opportunity Office or the Washington State Human Rights Commission can cause you more headaches than a bottle of Tylenol (extra strength) could ever relieve.
So you've got lots to look out for, lots to manage.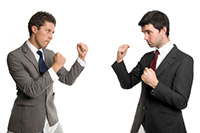 When push meets shove.
When the problems arise, don't ignore the situation. Get right on it. Call us if you need some advice. We've been down these roads before. You can also take a deep breath, and left click to the following websites and do some research on your own.
Attend one of our seminars.
You can also sign up for one or more of our great seminars which address employment law. Our seminars cover employee manuals, restrictive employment practices, and required jobsite postings.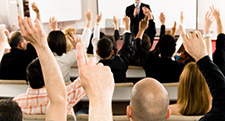 Frequently asked questions (FAQ's).
This may not have answered all of your questions about construction law. We anticipated that. So, we have prepared an additional Legal FAQ's webpage which addresses the most frequently asked questions with regard to construction law.